Events & News
REGISTRATION CLOSED


Dinner Meeting: Growing a Clean and Green Economy in the Sacramento Region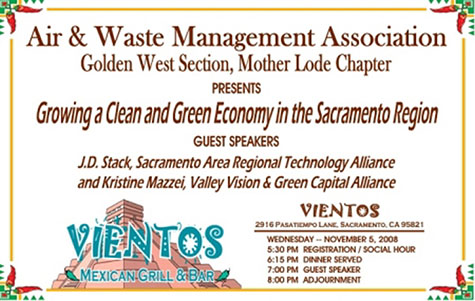 GUEST SPEAKER(S)
J.D. Stack, Sacramento Area Regional Technology Alliance
Kristine Mazzei, Valley Vision & Green Capital Alliance
PROGRAM TOPIC
Please join us to learn more about how new regional initiatives such as the Green Capital Alliance are working to help existing businesses in the region become more sustainable, and are working to expand the region's focus as a green technology center. Three years ago the Sacramento region had approximately 30 clean energy companies, and now we're up to 90+ firms. In order to become a true cluster for the industry we'll need to help our base of companies grow and expand, as well as continue to recruit additional new firms to the region. We've emerged as an ideal location for solar companies, attracting several international companies to locate their US headquarters in our region. We will discuss the regions competitive advantages for attracting these and other types of clean tech companies, including our proximity to the state capitol, the technology transfer being supported by local universities and business incubators, and the innovative nature of our region's utilities. Bringing clean green jobs and business is a key goal of all the regional partners in the Green Capital Alliance and in this presentation you will learn about some of our successful efforts, and about continuing initiatives to expand opportunities and options for the future.
Who should attend?
This event is organized by the Mother Lode Chapter of the Air and Waste Management Association. This event may be attended by students and their professors, and interested members and their colleagues. We welcome representatives of regulatory agencies, academia, industry, community and environmental groups, and the consulting community.
Questions?
If you any questions regarding this event, please contact Todd Sax at
todd.sax@arb.ca.gov
or (916) 229-0884.
MLC Mailing List

If you are NOT an A&WMA member and would like to receive emails notifying you of upcoming Mother Lode Chapter events, news, and/or announcements, you can subscribe to our mailing list by completing the form below. You should receive an email confirmation within 24-hours after submitting your contact information. You must confirm your acceptance by clicking on the link contained in the email before you are officially added to, or removed from, the A&WMA-MLC Mailing List.
Join A&WMA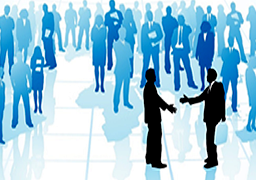 A&WMA provides programs and activities designed and conducted by environmental professionals for environmental professionals. Membership in A&WMA provides access to a worldwide network of individuals from industry, government, and the consulting, research, academic, and legal communities who engage in the exchange of technical and managerial information.
For more information on member services and benefits, visit the link below.
VISIT AWMA.ORG